I am one of the many vulnerable folks out there who must try not to get the Corona Virus due to an existing lung condition. So, like so many others, I am sheltering at home. While my heart is heavy for all who are suffering from this terrible pandemic for all the obvious reasons, I am having guilty pleasure in finding so much unstructured free time.
I was missing my local Clay Studio and our 3D Potterbot Scara V4 , and I had an inescapable urge. Why not order a smaller 3D Potterbot 9 Pro for my house while I hide from the virus and everyone else (but cute hubby)?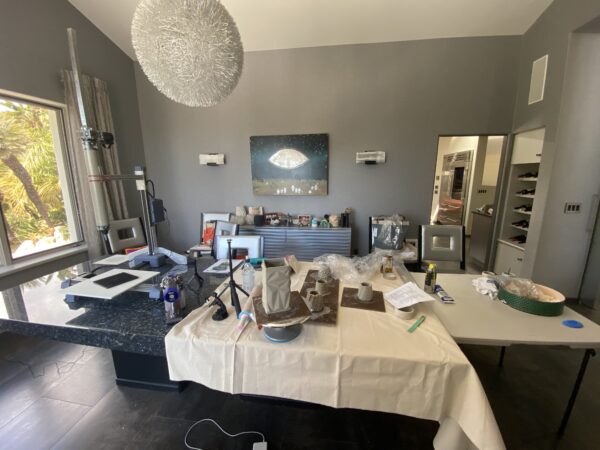 I got permission from the aforementioned cute hub to transform our not-to-be-used-anytime-soon dining room into a temporary clay printing studio! The printer is on the far left of the table—it fits in quite nicely with our paperclip lamp and UFO painting, don't you think? I have already gone through one tube of clay, and you can count all the little 3D printed vessels on the canvas-covered part of the table as my first day's efforts.
Anyway, I am in heaven with so much time to learn and experiment. Wait for future blog posts where I will share what happens in the "room where it happens."
-Your Claybottress